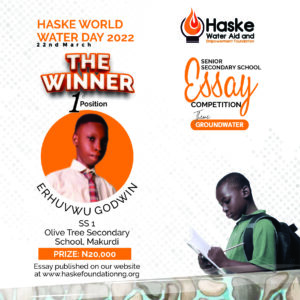 As the world celebrates World Water Day on March 22nd, it is our custom to commemorate this remarkable day in a memorable way. We invited senior secondary school students to submit entries for our World Water Day Essay Competition.
Godwin Erhuvwu emerged as the winner of the essay competition. Godwin is an SS 1 student of Olive Tree Secondary School, Makurdi. He won a cash prize of N20,000 while the second position was taken by Joe-Alfred Ollordaa, an SS 3 student of Community Secondary School, Ebubu-Eleme, Rivers State. Joe-Alfred won a cash prize of N10,000.
Godwin Erhuvwu's essay was outstanding because it proved to portray the reality of groundwater as it affects his life.
Below is Godwin's essay.
GROUNDWATER; MAKING THE INVISIBLE VISIBLE
Until my elder sister told me about this essay, I didn't care much about the term 'groundwater', all I knew was Water. I decided to browse some articles online, the more I read, the more I realized how much groundwater affects my life.
Groundwater is the water that is moving underneath the soil and stored up in rocks called aquifers and it makes up 98% of Earth's freshwater supply.
My name is Erhuvwu Godwin and I am a student of Olive Tree Secondary School, Makurdi. I was born here in Makurdi and for this, I can understand the two seasons we have in Nigeria; the rainy and the dry seasons.
As I write this article, I am now more informed about another journey that water takes that isn't really covered during the water cycle topic; groundwater. I understand that during the rainy season, the clouds become heavy and then it rains, but during the dry seasons, when our well dries up and even the banks of the River Benue are as dry as a bone, somehow, we still manage to get water.
Growing up, I have come to accept how tasking the dry season can be. When our well is all dried up and my siblings and I have to carry heavy kegs in search of water. I often wish we had a borehole, but here in Makurdi, it is expensive.
In my struggles to get clean water for our domestic use, I don't think I have given much thought to where the water comes from, but after reading some articles online about groundwater, I am fascinated at how little I know about this reservoir that we have access to when the wells and rivers are dry.
Groundwater is a huge part of my life and that of everyone in my neighbourhood, in school, we are taught that some parts of Nigeria like Delta (my home state) and Bayelsa, experience rain almost all year round, this means their rivers and wells are rarely dry.
It is however a different story for me here in the middle belt, right now, I can only look forward to the rainy season with so much anticipation, but for now, I choose to appreciate a huge part of the water that finds its way to us when every other source including the cloud dries up; groundwater.
I understand that the theme for this year's World Water Day is, 'Groundwater; Making the Invisible Visible' and this is true, while we are lucky to have just enough water supply during the dry season, it is really hectic, for example, my whole neighbourhood depends on just one borehole and we spend a great deal of time queuing up to get water, even late into the night.
Now when I queue up, I can't help but wonder, how can the water moving right now underneath my feet, be brought up? How can I make the invisible more visible?